Facet Feature Recipe: Mandy's Mac & Cheese Taco Bake
Facet Feature Recipe: Mandy's Mac & Cheese Taco Bake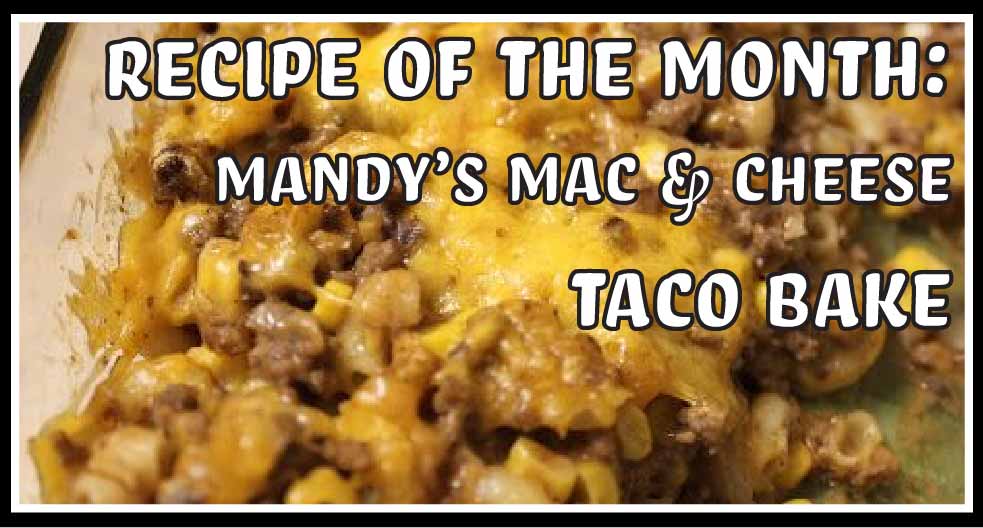 Ingredients:
2 pounds ground beef
2 packages taco seasoning
3 boxes shell macaroni and cheese
2 cups sour cream
16oz frozen corn
2 cups shredded cheddar cheese

Brown 2 lbs of hamburger meat.
Drain and mix 2 packets of taco seasoning in.
Cook 3 boxes of shell mac 'n' cheese as directions state.
Mix in 2 cups of sour cream with mac 'n' cheese.
Layer mac 'n' cheese/sour cream mixture in bottom of casserole pan.
Layer taco hamburger meat on top.
Sprinkle 16oz frozen corn.
Sprinkle with shredded cheddar cheese.
Next, layer another layer of the mac 'n' cheese sour cream mixture on top (like you are making lasagna).
Cover with aluminum foil.
Bake for 15 minutes.
Take out and sprinkle more shredded cheese on top and bake for another 5 minutes, uncovered.