Monitoring
Managed Services
Monitoring
IT Monitoring
24/7/365 Network Monitoring Services and Tools
It's a business owner's nightmare: going into the office on a Monday morning only to find your network entirely down, your computers non-operational, and your staff unable to complete their work. Perhaps you can't assist customers or lose sales and profit waiting hours for your network functionality to return to normal after calling for repair.
If this has happened to you in the past, you know personally the costs of using break/fix IT services to solve computer and network problems as they crop up. The solution is to stop waiting for it to happen. Preventing a problem in the first place also prevents losses, and you can easily prevent future issues with IT monitoring.
Facet offers 24/7/365 IT monitoring services for your networks and systems to ensure you're always up and running when you need to be. We tackle issues before they have a chance to slow you down with state-of-the-art IT service monitoring tools and solutions. The best part is that you don't have to think about it anymore. Facet Technologies does it all for you, from setup to quick fixes and repairs.
We don't settle for subpar boxed monitoring software suites commonly used by managed services providers–we created our own IT service monitoring tool, Provoptix, to serve our customers better. Provoptix features a dashboard where you can see what we see for full transparency.
Facet's managed IT service monitoring, and support can help you find True Tech Peace of Mind—it's what we do every day for thousands of businesses like yours. Facet customers don't have to worry about minor IT concerns because they have the peace of mind that comes with 24/7 support, monitoring, and experienced technicians who know your business and networks.
Facet Technologies provides world-class IT support to over 5,000 businesses in Peoria, Il and its surrounding areas. Since 1989, our customers have always described us as one of the most effective and reliable IT monitoring companies in Central Illinois. Our managed IT services monitoring is a large part of that. Halting the problem in its tracks before it has a chance to wreak havoc on your bottom line allows you (and us!) to focus on what matters: your business.
Whether you've experienced technology disruptions before or you never want to go through it in the first place, we can ensure your systems run smoothly with our IT monitoring services. Stop worrying about your systems crashing or your hardware melting down. Grab yourself some True Tech Peace of Mind with our IT monitoring services. Call Facet Technologies today and learn more about what makes our IT service monitoring tools stand out.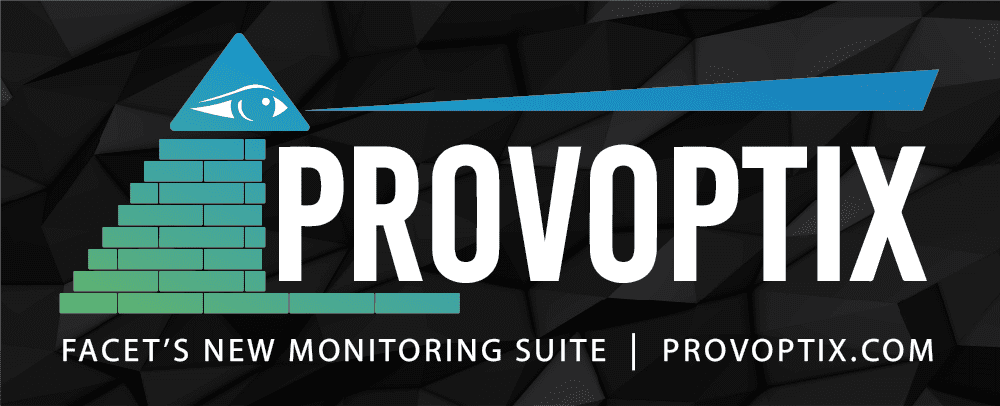 Provoptix, Facet's IT Monitoring Suite
Meet Provoptix, the monitoring suite designed with our customers in mind. Provoptix works to increase your uptime with a blend of hardware and software components that work together to get a full picture of your network health, 24/7/365.
How does Provoptix monitoring work?
Provoptix uses a small secure data collection device installed on-site at our customers' locations to gain insight into everyday usage and stop problems and failures before they bring your business down. This device gathers the information we need to proactively maintain your systems and identify problem areas.
What does Provoptix monitor?
Provoptix monitors several key factors for network performance, including hard drive status, printer supply levels, and bandwidth speeds. These, together with a host of other metrics, allow us to get a full picture of your network at any given moment, plus a wealth of historical data.
The best part is that all of these metrics are displayed in a single platform—so you don't need 20 different products to manage your IT.
One great part of Provoptix monitoring is the transparency for our customers. If you have internal IT, you can use your data to power your IT decision-making and manage your network more effectively. For small business owners or those without in-house IT, seeing your data gives you a window into your company infrastructure at any time. With Provoptix, you see what we see.
Provoptix for Small Business
Provoptix is the perfect solution for small businesses. It's built with growth in mind to make it simple to add workstations or locations. Small business owners can focus on their business instead of dealing with IT issues and headaches. Many of our current Provoptix clients are small businesses, and we have received positive feedback—they love the responsiveness and proactive maintenance.
Provoptix for Enterprise IT
Enterprise IT teams use Provoptix to cut through the noise. Provoptix distills monitoring data into actionable items and alerts to keep your networks in good health. It's easy to get information at every level, from bird's-eye-view statistics to data on individual workstations, you can confidently manage your organization's IT stack.
Provoptix for MSPs and IT Service Providers
We have received such a positive reaction to Provoptix that we have decided to offer it to other IT companies at early-access pricing. Visit Provoptix.com for more information on how your team can begin offering Provoptix to your clients.