"Have You Tried Turning It Off And On Again?"
"Have You Tried Turning It Off And On Again?"
Here's why "turning it off and on again" should almost always be your first move when you're experiencing computer issues.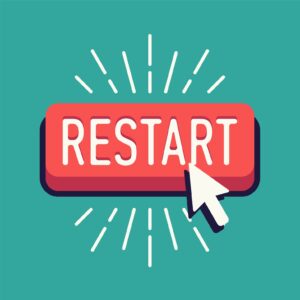 Ahh, the magic words: why does "turning it off and on again" work so often to fix small IT problems?
Restarting your PC can be a "magic cure" for many small PC headaches. Whether a program refuses to start, or you're experiencing slowness, oftentimes a quick restart makes everything right. It may make us sound like a broken record, but there's a reason why IT professionals are so quick to suggest "turning it off and on again."
Why does it work?
Often, while using a computer, programs and software may run into small errors that can compound into bigger issues. Maybe it's causing the PC to run slow, or causing another program to load incorrectly. As with all software, there are many tiny things that can just go wrong.
Turning the computer off stops all these processes and clears a bunch of temporary data. When you start it up again, you're at the "starting line" with everything in place.
One common analogy for this is an orchestra that's gone off beat. Say you're conducting an orchestra and several musicians are offbeat. It's going to be easiest to stop the music and start from the beginning of the song, as opposed to trying to correct each musician that's offbeat, right?
While most software goes through rigorous testing before being sold to the public, there's always a chance of unexpected hiccups. Luckily, a quick restart can sometimes be the fix it needs!
Limitations of a restart
Obviously, if there are larger software issues at play, a restart won't always fix them. For example, if your computer runs slow even on startup, you may have unnecessary programs or "bloatware" set to automatically run as soon as your PC is started. You may also be experiencing a hardware failure.
We know that trying to get work done with recurring IT issues can be a frustrating experience. If you have computers at your office that are running slow, encountering errors, or having connectivity issues, we can help! Simply fill out the contact form below or give us a call at (309) 689-3900 and one of our friendly, experienced technicians can help you get rid of IT headaches for good.
About Facet Technologies
Facet offers managed services, cybersecurity, and helpdesk services to businesses across Central Illinois and the U.S. from our headquarters in Peoria, IL. If your business could use some IT help, give us a call and see the Facet difference for yourself.