Facet Employee Recipe: Drew's Shepherd's Pie
Facet Employee Recipe: Drew's Shepherd's Pie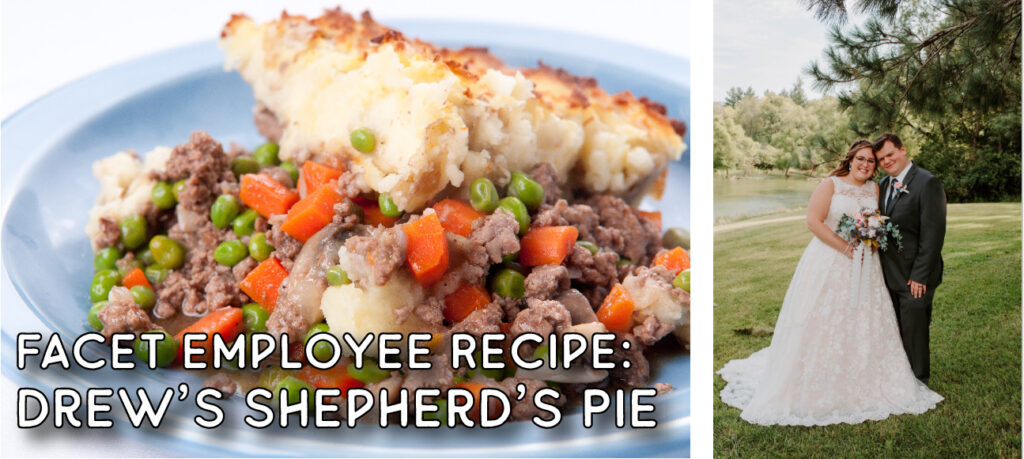 This month's recipe is from Drew Williams, a new addition to the Facet team working in web and software development. We are excited to have him aboard!
Drew has shared a recipe for an hearty and tasty shepherd's pie. Easy to make, this recipe is definitely one you'll want to save.
Shepherd's Pie
(Makes a 9×9 pan)
Ingredients:
1 cup chopped onions
1lb ground beef
Italian seasoning to taste
½ tsp salt and pepper
1 tbsp Worcestershire sauce
2 tsp minced garlic
2 tbsp flour
2 tbsp tomato paste
1 cup beef broth
1 cup mixed peas and carrots
½ cup of corn
8 servings of instant mashed potatoes
Parmesan cheese
Instructions:
Preheat oven to 400 degrees. Brown the hamburger. Add the onions, Italian seasoning, salt, pepper, Worcestershire, and garlic. Let simmer for 1 ½ minutes. Add the broth, tomato paste, and flour and mix well. Let sit for 2 minutes stirring occasionally. Mix in the peas, carrots, and corn. Add the contents the the 9×9 pan. Pour the mashed potatoes over top. Sprinkle parmesan cheese over the potatoes. Place in the over for 20 to 30 minutes. Let cool for 10 minutes.