Facet Employee Recipe: Ellie's Chicken Paprikash for Stovetop or Pressure Cooker
Facet Employee Recipe: Ellie's Chicken Paprikash for Stovetop or Pressure Cooker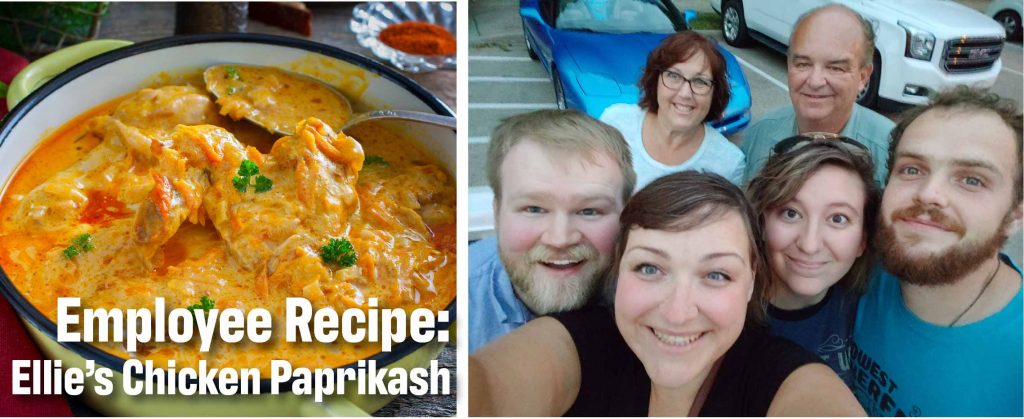 I love this recipe because it's very flexible and I can almost always throw it together quickly with stuff I already have around the kitchen. It's good for vegetarians, too: you can use chickpeas instead of chicken and it's still just as delicious (if you like chickpeas, that is).
I include instructions for a pressure cooker like an Instant Pot or Foodi as well. If you use this method, you still get the same wonderful flavor, but instead of a sauced chicken served over rice, your chicken and rice will be mixed together. A small price to pay for convenience.
Note on chicken: I like to use bone-in chicken thighs and legs, or boneless chicken thighs, because they have a higher fat content and maximize the tastiness of the recipe. Boneless skinless chicken breasts are an OK substitution. Alternatively, if you're feeding a family, just use a whole chopped up chicken. Boneless skinless chicken will also cook faster than bone-in, if you're short on time.
INGREDIENTS:
1 lb chicken
CAN SUBSTITUTE OR ADD: 16 oz can of chickpeas
½ onion
½ c flour
1-2 tbsp butter or vegetable oil
2 cups chicken stock or broth (I use Better than Bullion Roasted Chicken Base) OR 2 cups vegetable stock
3 tbsp paprika (Hungarian paprika is supposed to be the best for this, but I mostly use regular)
½ c sour cream OR plain Greek yogurt (more or less, according to your tastes)
Salt and pepper to taste
Rice (can substitute egg noodles, dumplings, spaetzle, or mashed potatoes)

PREP:
If using boneless/skinless chicken, chop into small strips for faster cooking.
For all chicken, sprinkle with salt and pepper. You can use garlic salt if you are so inclined.
For all chicken, mix ½ c flour with a generous amount of salt and pepper. Dredge chicken in flour mixture.
Dice onion finely.
If using chickpeas, drain water from can.

STOVETOP (if using pressure cooker, follow alternate directions below):
Start preparing rice according to package directions. It can cook while you make the paprikash.
Heat butter or oil on medium-high heat in large skillet or Dutch oven until shimmering. If using only chickpeas, skip to step 4.
Place dredged chicken in skillet and fry on each side until browned, about 3 minutes per side for boneless/skinless, about 5 minutes per side for bone-in.
Remove chicken from skillet to plate.
Add onions to skillet and more oil if needed. Saute until translucent.
Add the 2 cups of chicken stock to deglaze the pan.
Add the paprika and more salt and pepper.
Return chicken to pan. If using chickpeas, add them now.
Turn heat to low and bring to simmer.
Simmer for about 30 minutes or until chicken is cooked through to 165°F.
Once chicken is cooked, stir in sour cream.
Serve over rice. Pairs well with broccoli, peas, or green beans.

PRESSURE COOKER
Turn pressure cooker to saute mode on high. Add oil or butter.
(If using only chickpeas, skip this step) Brown chicken on both sides. Remove from pot to plate.
Add onion to pot and saute for a couple minutes until translucent.
Add chicken stock, paprika, and additional salt and pepper.
Add 1 cup rice to pot.
Place chicken on top of rice. If using chickpeas, add them here.
Set pressure cooker to HIGH setting for 8 minutes for boneless chicken, or to 14 minutes for bone-in chicken. Natural release pressure for 10 minutes.
Served topped with a dollop of sour cream.